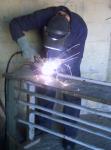 My name is Richard Warne and I have been working on farms for the last 25 years. I have a wealth of experience in welding, fencing and gate repairs, replacement and repairs of all types of doors as well as stable doors, garden seats and gates.      I have experience of working for a engineering firm for nearly seven years.  I have a welding certificate from Otley college dated 1992.

I also make garden seats, bird tables,dog kennels and other wooden items to order. Click here to see examples and prices.

If you need any repairs on your farm or property, why not give me a call. I will come to you and fix the problem without fuss and at a reasonable cost.

When you are too busy and do not have any time for repairs - Give me a call


If you are between livestock and your buildings are empty and need some repairs - Give me a call.

If your gates, hurdles, doors or hinges need repairs - Give me a call.

If your fences need checking for holes, your wire needs straining or posts and rails need replacing - Give me a call.

I will make or repair all types of doors and frames, garden seats,gates and fencing or carry out any small woodwork and carpentry repairs that you need -     Give me a call.
If you need any Brushwood cutting or strimming or House hold Lawn cutting or Hedge Trimming and Rotavate veg Gardens - Give me a call.

I operate in Suffolk and Norfolk and can normally attend to a job within hours of your telephone call if necessary.
Worked for myself the last 11 years. Lived in Tannington on this farm all my life.
I have full insurance for all work carried out.

Free job quotes.